New in Behaviour Research and Therapy!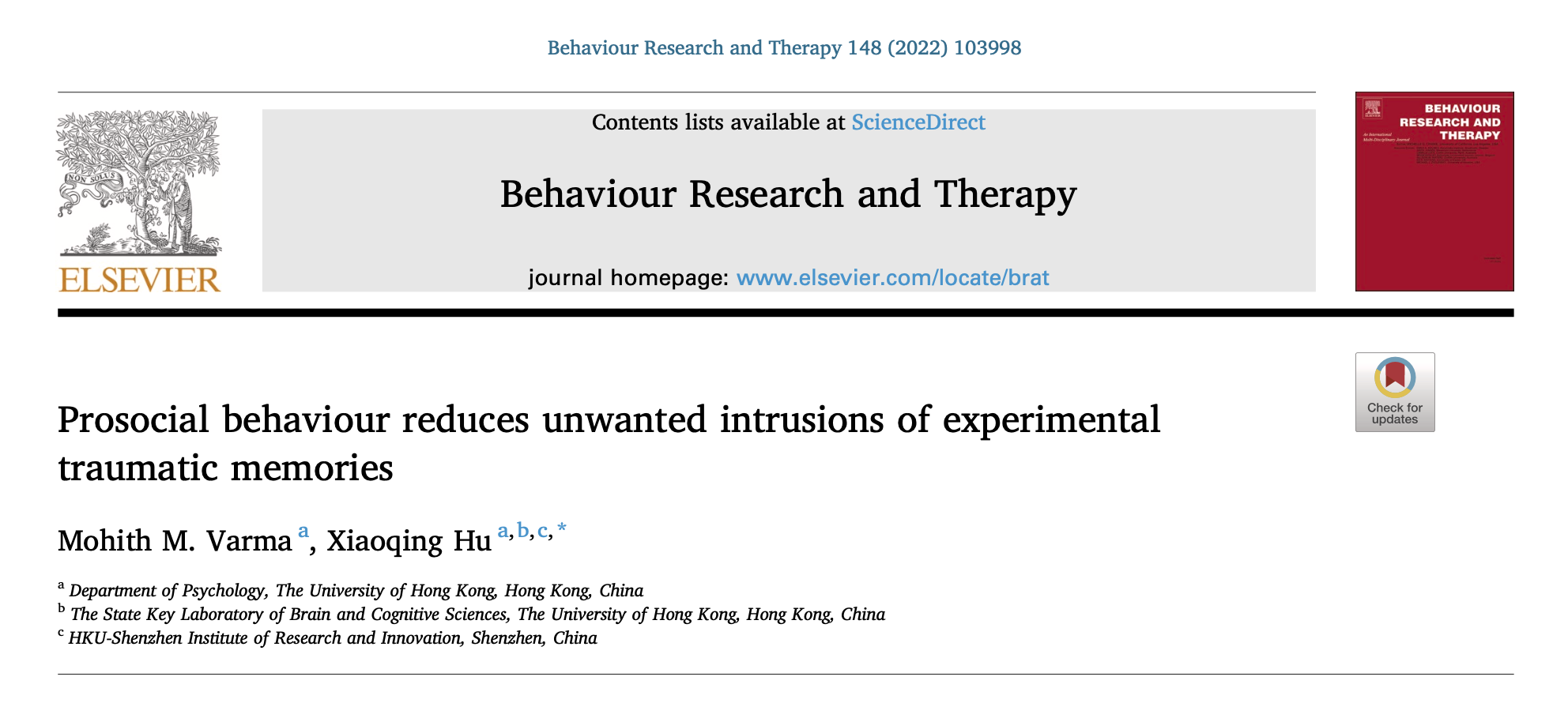 Our new paper titled Prosocial behaviour reduces unwanted intrusions of experimental traumatic memories got accepted by Behaviour Research and Therapy !

Abstract:Following trauma exposure, people often experience involuntary intrusions of traumatic memories, i.e., flash- backs. How to reduce such unwanted intrusions attracts attention from basic and translational memory research, with a goal to safeguard mental well-being and promote resilience. Here, based on prosocial behaviour's well- documented psychological benefits, we hypothesized that post-trauma prosocial behaviour would causally reduce trauma-related symptoms, including involuntary intrusions. To test this novel hypothesis, we conducted two pre-registered lab studies (N = 180) using trauma films to induce lab-analogue trauma exposure. Following trauma exposure, participants were randomly assigned to prosocial or non-prosocial conditions. Specifically, in the prosocial condition, participants donated money to their preferred charities. In the non-prosocial conditions, participants completed either a neutral, number judgement task (Experiment 1) or a proself task (Experiment 2). Participants completed a 1-week intrusion diary and Impact of Event Scale-Revised (IES-R), to assess frequencies of traumatic intrusions and post-trauma stress disorder symptoms, respectively. Results showed that compared to non-prosocial behaviour, prosocial engagement (i.e. performing charitable donations) reduced involuntary traumatic intrusions in both lab settings and in their daily life as evidenced by 1-week intrusion diaries. While exploratory mediation analyses suggested that intrusion reduction was partly driven by enhanced positive affect afforded by prosocial behaviour, future studies are required to illuminate the underlying mechanisms. To the extent that post-trauma prosociality alleviated trauma-related symptoms, future research is warranted to investigate how various forms of prosocial behaviour in naturalistic setting could promote resilience following trauma exposure.


12/14/2021